There is no shortage of good places to eat when it comes to lunch in Pioneer Square. In the last couple of years, new restaurants and cafes have seemed to open monthly. Being new to the neighborhood, we still have a lot of exploring to do and have probably overlooked some great options. We have however, come up with five spots we've been been dining at often (in no particular order).
Address: 217 James Street, Seattle, WA 98104
Hours: M-F 11am-3pm
Offerings: appetizers, salads, and pastas (menu changes daily)
Sample menu items:

Casarecce, with anchovy, chills and rapini
Pappardelle, alla Bolognese

Price range: around $9 per plate of pasta
Service style: Order at counter and sit down at one of the rustic antique wood cafe tables or bartops
Tips: avoid the 11:45-1pm lunch time rush, this place is packed for a reason during this time
Cons: difficult menu to work around if you are of the gluten or carb free group
Il Corvo has become my favorite place to grab lunch in Pioneer Square. Nestled between 2nd & 3rd inside a long rectangular space no bigger than 1000 square feet, a lunch at Il Corvo transports you to a European eatery for the afternoon. The beautifully rustic and simple decor will remind you of an Italian farmhouse and the daily fresh pasta will taste just as authentic. This is pasta with few ingredients that manages to pack a lot of complexity. House-made noodles are always cooked perfectly al dente, and the sauces never lack flavor. For anyone who thinks spaghetti and meatballs is bland and boring, these pastas will prove otherwise.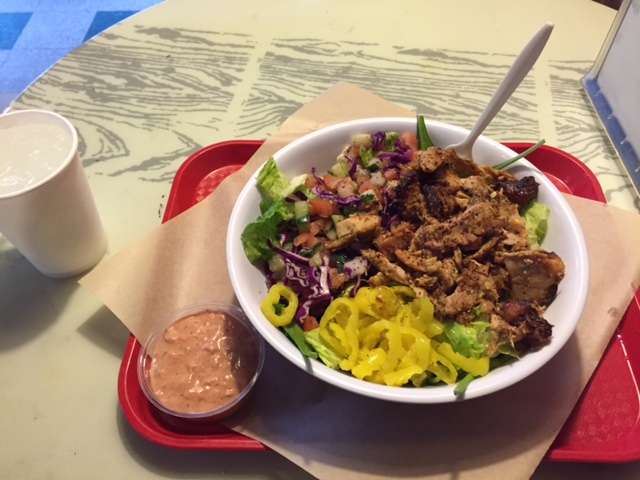 Address: 221 1st Avenue South, Seattle, WA 98104
Hours: M-F 11am-4pm
Offerings: salads, sandwiches, wraps & döners
Sample menu items:

The Berliner Döner: choice of meat, garlic yogurt sauce, cucumber, tomato, onion, picked red cabbage, cilantro
Feta Chicken Salad: crisp greens, feta cheese, cilantro, tomato, cucumber, red cabbage, onions, herb yogurt dressing

Price range: around $7-$9 for a sandwich or a full-size salad
Service style: Order at counter and sit down in cafeteria style cafe
Online Ordering: Yes
Tips: If ordering a döner, I recommend ordering it as a wrap (spinach or whole wheat tortilla option). I prefer the lighter tortilla to the bready fladenbrot they typically serve it in.
Cons: dated interior decor, can get a bit messy during lunch rush
The Berliner is a good place to get a fresh meal quickly. They specialize in döner kebab style sandwiches and salads. The menu is relatively straightforward, a variety of sandwiches,salads, and wraps offered with your choice of protein. It is hard to find a filling and satisfying lunch salad, but the Berliner provides just that. Portions are generous and you might leave with leftovers. Their kebabs are advertised as hand made in-house, 100% meat (no fillers), no preservatives, and no MSG. The name Berliner comes from the fladenbrot bread of Germany that resembles focaccia, though you can order your sandwich in a pita or a tortilla instead (recommended). Most menu items incorporate the traditional flavors of yogurt, cucumber, tomato, cilantro, and onions. If you don't like these flavors, it will be hard to work around the menu. The service is usually fast though lunch can get busy. With a rather unremarkable and dated interior, the Berliner makes for a great place to order ahead and pick up. Your $7-$9 meal here will certainly satisfy a growling stomach.
Address: 171 South Jackson Street, Seattle, WA 98101
Hours: M-F 6am-7pm, Sat 7am-7pm, Sun 8am-6pm
Offerings: full coffee bar, pastries, breakfast sandwiches, lunch sandwiches & salads
Sample menu items:

Spanish Salami Sandwich
Roasted Veggie Sandwich

Price range: Between $7 and $9 for a sandwich
Service style: Order at counter and sit at any coffee shop tables or bartops
Free Wi-Fi: Yes
Cons: Not the biggest bang for your buck. The salads in particular leave you needing something more.
Zeitgeist is always a top lunch choice for me no matter the occasion. Whether I'm in the mood to read the paper or browse online while eating solo, or I'm meeting someone for business, Zeitgeist fits the bill. It works at any time of day. Along with quality espresso and tea served throughout the day, Zeitgeist offers great egg sandwiches and pastries at breakfast and tasty baguette sandwiches and salads for lunch. In the late afternoon and into evening you can grab a happy hour beer. The warm wood interior contrasted by the colorful work of local artists' and antique coffee roasting equipment, creates a charming atmosphere that urges you to stay a while. I prefer the sandwiches to the salads for lunch, as they are more filling for the price. The sandwiches are European inspired, typically grilled on a baguette or ciabatta with a variety of high-quality veggie and meat combinations. Served with a simple green salad, they make for a complete lunch in an inspired setting.
Address: 214 1st Avenue South, Seattle, WA 98104
Hours: M-F 7am-5:30pm, Sat 8am-4pm
Offerings: full coffee bar, pastries, breakfast sandwiches, lunch sandwiches & salads
Sample menu items:

Cheddar Egg Biscuit: A flaky buttermilk biscuit with a scrambled egg and melted cheddar cheese.
The Blue Ribbon Sandwich: thinly sliced roast beef, picked red onions, fresh salad greens, and plenty of blue cheese mayo on a toasted Potato Bun.

Price range: Average $7 and $9 for an a la cart sandwich, $11-$12 for a sack lunch
Service style: Order at counter and sit inside the Grand Central Arcade or at outside cafe tables on the cobblestone patio
Free Wi-Fi: Yes
Cons: Not particularly cheap nor quick for a fast lunch sandwich.
Grand Central Bakery's mission is "to serve customers delicious, authentic food made from high-quality local and sustainable ingredients." Founded in Pioneer Square roughly 25 years ago, this bakery is still led by a close community of friends and family who are passionate about artisan baking. This is made clear by the chewy fresh breads their sandwiches are served on. Stop in for lunch and you will find a variety of sandwich options, soup, and salad that can all be complimented by the tasty baked goods and espresso. The sandwiches feel home-made, and with a location in the historic Grand Central Arcade, you will feel right at home. With the ivy-clad brick building exterior, cobble-stoned patio, and interior fireplace, there is no cozier place to meet a friend for lunch.
5. The London Plane
Address: 300 Occidental Avenue South; Seattle, WA 98104
Hours: 8am-7pm Mon & Tues, 8am-9pm Wed-Fri, 9am-9pm Sat, 9am-5pm Sun
Offerings: Coffee, pastries, salads, soups, plated lunches & dinners, groceries, flowers, & gifts
Sample menu items:

smashed avocado & sesame toast with shaved kohlrabi, parsnips & cilantro
spiced lamb meatballs in tomato sauce

Price range: around $10-$15 per lunch plate
Service style: Full-service sit down or grab a coffee and pastry at the counter to go
Tips: go with others and order a variety of plates family style in order to sample as many of the delicious flavors
Cons: difficult menu to work around if you are an unadventurous or picky eater
The London Plane, located on the northeast corner of Occidental Park, is the most beautiful lunch spot for a work diversion. You will notice the space just passing by whether you are looking for The London Plane or not. With flowers for sale displayed outside, a classical romantic white-brick interior, and a charming upstairs balcony, The London Plane will draw you in. Whether you've been drawn in during the morning hours or evening, you are sure to find something that will satisfy. With fresh pastries and coffee at the walk-up counter, a sit-down lunch menu featuring toasts, salads, & full plates, and a plated dinner menu, The London Plane does it all. And this is before you add in the gorgeous array of foodie gifts and flowers for sale inside. The dishes at the London Plane are never boring, with exotic flavors that take your palate to Morocco or Spain while dining inside a Paris meets London cafe that seems almost monumental. For the majority of us, The London Plane is not an everyday lunch spot, but on those special occasions, it does not disappoint.